News
CFA Society Uruguay analyze the impact of coronavirus pandemic locally
Jun/02/2020
Through a survey sent to local Members and Candidates, CFA Society Uruguay analyzed te impact of COVID-19 pandemic locally. Read Full Report Here.
Clear your calendar!
May/06/2020
Put aside three days this May to join the 73rd CFA Institute Annual Virtual Conference and connect with Aswath Damodaran, Catherine D. Wood, and Howard Marks, CFA. Register now HERE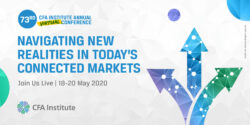 In Uncertain Times, Rely on Time Tested Principles
Apr/15/2020
COVID 19 and related uncertainty have added to volatility in the stock market. This is a unique and uncertain time for all investors and one that will require all of us to be extra focused and cautious when making financial decisions. Read More…
Financial Literacy – Financial Wellness in Uncertain Times
Apr/14/2020
The current health crisis has become an economic and financial crisis. Although it's important to build personal finance and investing skills throughout our lives, it's during these periods of uncertainty when these skills provide the most value.  Read More…
2020 Kaplan Schweser Materials Scholarships
Mar/06/2020
Thanks to our partnership with Kaplan Schweser (CFA Institute approved prep provider), we were able to assign materials scholarships for Candidates of June 2020 Exam of the CFA Program.
Congratulations to Martín Arroyo and Brenda Muñoz for winning the scholarships this time!
Kaplan Schweser has been partnering with CFA societies for 16 years…developing candidates into CFA® charterholders and ultimately leaders in society communities. Schweser's study program has evolved over the years to create an engaging and motivating experience for candidates, guiding them to exam success in an efficient and adaptive manner.